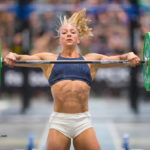 Amanada Barnhart has been in Crossfit for a few years now. I see competitive results for her going back to 2014.
Her profiles list her as 5'7″ tall and 151 lbs. She is currently 26 years old. She works as a physical therapist.
She has around 21k followers on her Instagram account these days:
https://www.instagram.com/amandajbarnhart/?utm_source=ig_embed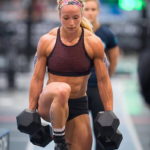 She has what may be the world's crappiest youtube channel, and I will only link to it reluctantly:
https://www.youtube.com/channel/UCNoV3aOupv5lZ_wItsbY_KQ
Amanda has been athletic all her life. As a child, she practiced gymnastics. In high school, she swam, played volleyball, and ran track. When she went to college, she swam for a D1 school.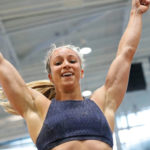 When preparing for a contest, Amanda does quite a bit of volume, which is not unusual for Crossfit athletes who oftentimes compete for the title "fittest on earth". She loves heavy cleans. Her maxes are listed as:
squat 315 lb
clean and jerk 230 lb
deadlift 390 lb
snatch 195 lb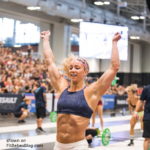 I don't know many guys who can deadlift 400 lbs, much less women. Amanda is definitely strong. At such a young age, she had incredible potential if she can minimize her injuries.
Unfortunately, with Crossfit, it really is "mimimize". It's a sport notorious for injuries. It's less a question of if you're going to get injured, and more about when. I guess you can say that for any top-level sport and athlete.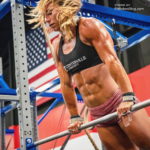 Lately I've heard that Amanda has been training with some of the sport's greatest, including Brooke Wells, Camille Leblanc-Bazinet, Katrin Davidsdottir, and Ehea Schuerch. I would think that will pay positive dividends in her performance.
Amanda was married a couple of years ago to Wesley Barnhart. I think they both currently live in the Ohio area.