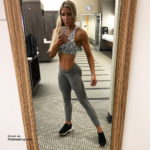 Heidi Powell recently placed 5th in the bikini division of the 2018 IFBB Dennis James Pro. I think it's about time we do an in-depth profile of her here on FBB!
The fact that she currently has 439k followers on her Instagram feed speaks to how popular she has become.
I would definitely classify her as a "celebrity trainer", not in the sense that she trains celebrities, more like she is a trainer who is a celebrity.
Heidi Powell Bio
She was born in Phoenix Arizona in 1980.
She and her husband Chris Powell began hosting the television show Extreme Weight Loss in 2011. That was really her first launch into fame.
In 2015, she published the book Extreme Transformation: Lifelong Weight Loss in 21 Days.
It has sold thousands of copies, and gets 4-star reviews on Amazon.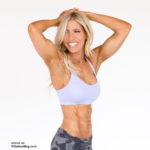 She has her own clothing and accessory line that she likes to associate with a positive body image. She uses the tagline "Perfectly Imperfect".
Heidi has four kids, and her marriage to Chris is her second. She is a certified personal trainer, with both ACE and CrossFit certifications. As of 2018, she is 36 years old.
Contest History
It appears as though Heidi began competing in 2015. She may have started before that, but that's what shows up when I research her history. She has placed as high as 1st and as low as 17th.
2018 IFBB Dennis James Pro 5th Place
2018 IFBB Pittsburgh Pro Bikini Division 17th Place
2017 NPC Teen Collegiate and Masters National Championships 1st Place Masters Over 35 Class E (earned her Pro card)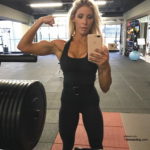 2016 NPC USA Championships 6th place
2016 NPC Universe Championships 16th Clase E Bikini
2016 NPC Pittsburgh Championships 2nd place
2015 NPC Europa Phoenix 8th Place Class C Bikini
Stats
Height: 5'5"
Weight: 129 lbs
Measurements: 34C-25-35
Hair: blonde
Videos
Heidi has her own youtube channel with 34k subscribers and 131 different videos. A few that caught my eye are pasted below. Continue reading "Heidi Powell"