As with many of the ladies we profile here on FitBabesBlog, CarrieJune Anne grew up heavily involved in athletics. Track and Field, gymnastics, and cheerleading were all a big part of her life.
Her birthdate is February 7th, 1996. She was born in New Jersey. It wasn't until she was a sophomore in high school that she started working out with weights at home. It wasn't long before she joined a gym, and started dedicating even more time to working out.
She is a popular trainer, and is followed by 1.2 million people on her Instragram page. Her claim to fame is probably her tiny waist and her giant quads. She claims that she made huge gains once she dialed in her training and nutrition specific for her body.
She tends to carb cycle, and as you can imagine she is very careful with her diet, nutrition, and calorie intake.
Her name is pretty unique, and she's actually married to a guy named Steve Ace.
She is 5'4″ tall, and her weight fluctuates between 125-135 lbs.
She started her own fitness apparel brand, and presumably spends much of her time (when she's not working out) running her business and building her brand.
Her abs are basically legendary, and her tiny waist combined with her massive glutes and quads are amazing: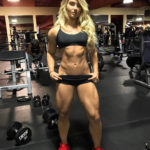 Here's a look at her glutes. I can't imagine how much time she has put into sculpting them: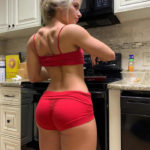 CarrieJune's flexibility is a byproduct of the time she spent in gymnastics and cheerleading as a kid: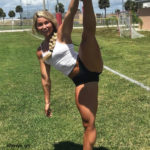 Here's a shot of CarrieJune wearing a thong bikini: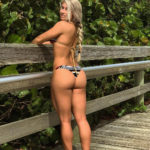 And then finally, how about a huge video of her! [I have updated to a new, working video.]

Her thick musculature somewhat reminds me of Cindy Landolt's.