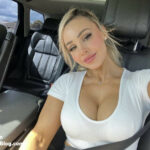 Stephanie Sanzo is a famous fitness influencer and personal trainer from Australia. She gained quite a bit of unwanted flab after birthing two children, and started a fitness journey that resonated with thousands of fans.
Stats
Height: 4'10"
Weight: 120 lbs
Born: 1987 (36 as of this original post)
Hair: Blonde
Measurements: 35C-24-35
Marital Status: Married (to Jamie Bisset)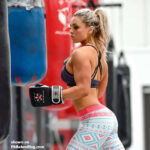 Bio and Misc:
Stephanie is a mom two a boy (Diezel) and a girl (Maya), two children from her first marriage.
She has irritable bowel syndrome, and has publicly talked about the effect it's had on her psyche and social life.
She has dealt with pelvic floor issues related to her two pregnancies, and is never ashamed to share her story with other women.
Interview Notes:
"Being strong isn't just about lifting big weights. I've gotten through tough things in my life. Being strong is a mental thing, and to me it's about resilience."
"My favorite podcast varies, but I like Tony Robbins and others that tend to pump me up and keep me positive."
"The biggest piece of advice I've ever been given is: get over it. Also, don't look at problems as problems, but as opportunities to grow and get better."
Contest History:
It was reported that Stephanie entered a bodybuilding competition in 2013, where she placed 2nd. She competed three other times, but stopped when she found it was having negative effects on her health.
Social Media
Stephanie's most popular channel is on Instagram. She has over 3.2 million followers!
Videos

You probably also want to check out Frida…