Picture a lady with movie star looks, a megawatt smile, and a muscular physique. Okay, you've got Taryn Bagrosky. Bright blue eyes, 29 years old, currently training in Colorado (via Train with Taryn). She is a fitness competitor, and a heck of a good one considering she is the current Miss Fitness USA. She is 5'6″ tall, lists her occupation as personal trainer, and says she loves skiing. With a BS in Health and Exercise Science from Colorado State University, Taryn's brain matches her brawn.
Her contest history:
2005 Northern Colorado Bodybuilding 2nd runner up
2005 Ms Fitness Colorado Champion
2008 Ms Fitness USA, 5th place
2008 Ms Fitness World, Top 20
2008 Ms Fitness LoneStar Champion
2009 Ms Fitness Flex Appeal, Champion
2010 Ms Fitness USA, Champion
2010 Ms Fitness World, 6th Place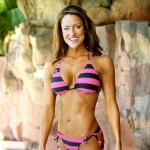 Although it's easy to appreciate the beauty and fitness of a fitness model or a figure competitor, especially amazing is a fitness competitor with Taryn's array of talents. The physicality and athleticism it takes to do some of the moves she pulls off is really amazing.