Lynn is an athlete with years of experience in fitness modeling. She has a glamorous poise that seems to fit her physique perfectly. As you'll read in the interview below, she has suffered a number of injuries playing competitive sports. With flawless skin, glacier white teeth, and eyes that seem to tell a million stories, we think her talent will continue to push her up the ranks of fitness models out there.
Buy Lynn Zipset Now! via Paypal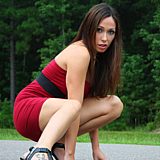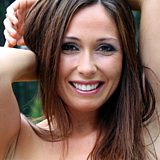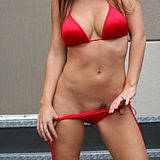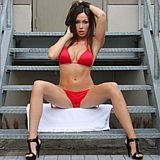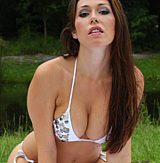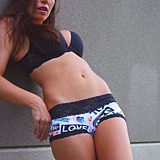 Hi Lynn. Tell us about yourself, give us a little background.
Well, I'm 25 years old. I'm about 5'6″ tall and weigh about 110 lbs on a good day. I'm pretty curvy, I go 34D-24-35. I grew up in New York, but I moved around a lot.
Any siblings?
I have 2 brothers, and we're all pretty close.
Were you athletic growing up? How did you get into fitness modeling?
Oh yeah. I've always been super-active and athletic. You name it – gymnastics, cheerleading, softball, volleyball, golf, ultimate frisbee, even surfing.
You mentioned injuries, and I see a few souvenir scars. What's the scoop?
I was a competitive gymnast. Gymnastics is pretty hard on your body, it and cheerleading have a pretty high rate of injuries. I broke my elbow and ended up having surgery. At 5'6″, almost 5'7″, I was close to being too tall for the sport, so I never went back. I'm not one to sit around though – I loved to dance so I ended up on some dance teams and doing cheerleading. I went to college on a cheerleading scholarship, but my streak of good luck continued and I blew out my knee.
Wow, you are a surgeon's dream. Somebody retired off you. Do the injuries still bother you?
Some days. I try not to let stuff slow me down. I'm really into P90X these days. I workout 6 days per week for 60-90 minutes per session. I bet I can do more pullups than you! lol
Uh, hey it's not nice to pick on the interviewer. Who do you look up to?
I look up to any model or actress who was a nobody and became a somebody because of their talent instead of because of who they know. One of my favorites isn't a fitness model, it's Ellen Degeneres. She loves to help people and make them laugh. Laughter is the most important thing on my to-do list every day!
I saw you rocking out with your Ipod. What type of music do you listen to?
My top 3 favorites when I'm working out are:
Jason Mraz – I'm Yours
Taylor Swift and Boys Like Girls – Two Is Better Than One
Train – Hey Soul sister