Stats
Height 5'7″
Weight 152 lbs
Home Country Canada
Age 34 (born 1989)
Biography
Emily grew up in Kamloops British Columbia. She was a National level gymnast for many years, but retired from that sport at the age of 22. She subsequently competed in Track & Field as a pole vaulter, but within a year switched over to Crossfit. She grew up in a very active family, always chasing after and competing with her big brother. Their family was always hiking, biking, swimming, and skiing. Fun fact: Emily's mom was a javelin thrower, and made the Olympic team for Canada! Meanwhile her dad was a collegiate wrestler and weightlifter. Emily says she loves to travel and scrapbook, and has been an avid piano player since she was 5 years old.
Competition History
2023 Crossfit Games Ranking 12th
2022 Crossfit Games Ranking 40th
2021 Crossfit Games Ranking 15th
2020 Crossfit Open Ranking 110th
2019 Crossfit Games Ranking 18th
Quotes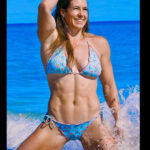 "I've learned that even if you are good enough to compete with the top girls, if you don't believe you belong, you wont. I've hired a mental coach this year and it has made a world of a difference in the way I think, act and compete."
Interviews
How did you get into Crossfit?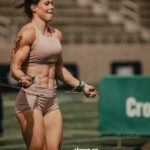 I started crossfit at the end of 2014 and just passed my '5 year anniversary'. I was helping my husband (boyfriend at the time), who was a personal trainer and had a booth at a local crossfit competition, with selling stuff. We were watching the girls and he said to me "you should try that, you'd be good at it". I politely declined and then found myself two weeks later visiting my cousin in California getting pulled along to a class and LOVING IT. I was obsessed with learning all the movements and spent hours at the gym. The type of training brought me back to my gymnastics days and I loved that feeling of getting a new skill and getting stronger and fitter.
Videos
Here's a compilation video of Emily…