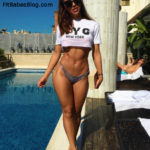 We've talked a little about the popularity of various smoking hot female fitness models on Instagram. I think I have uncovered one of the most popular girls out there. Her name of course is Ana Cheri.
The very first thing you will want to do is check out her Instagram account:
https://www.instagram.com/anacheri/?hl=en
I hope you're sitting down… she has 8.5 million followers. Yeah, you read that right.
I read a report that said she makes $3.6 million per year from endorsements through her IG account. Pretty much any post she makes there garners a solid 250k likes within just a few days. Pics she posts of her self wearing skimpy workout attire understandably do a bit better than ones of various products.
Ana also has her own website where she pedals nutrition books, clothing, even skateboards. What isn't very easy to find is an Ana Cheri bio. Let's give this a shot…
Age 30 years old
Height 5 feet 7 inches
Eye Color Brown
Weight 120 lbs
Born in Southern California
Measurements 34D-25-36
Married
No Children
Heritage Native American, Latina, Caucasian
Worked with: Monster Energy, K&N Filters, Ultimate Arm Wrestling League, Shredz
Started out: modeling for Punch Magazine, Fox Racing, Toyo Tires
Cover Girl: Miss October 2015 for Playboy
Appeared in: Muscle & Fitness Magazine
Ana and her husband are pretty private about their relationship. He occasionally shows up in her photos on Instagram, but she really doesn't talk about him much in her various media outlets.
A number of folks have written in to ask about Ana Cheri topless pics. Sooo they exist! LOL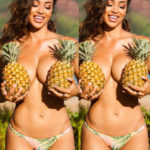 I've included a few of them here for reference. I mean, she was after all, a playboy model at one point. So getting her (fabulous) body out there isn't something that she's shy about.
It will be interesting to see how Ana and her amazing marketing machine evolve, and what she tackles next. Regardless, I'm sure she'll stay a fitbabe!
Update 7/9/17:
Ana's followers on Instagram have kept piling up. Here are a few photos of her recent updates…