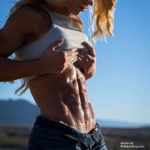 Frida Paulsen Stern has been tearing up the competitive stage for years.
She is a gorgeous blonde bikini competitor who is quite popular. It's a pleasure to do a detailed profile of her here on FBB!
Contest History
Yes, this is an incredible 13 contests in less than 3 years. That's an average of one competition every few months!
3rd Place 2018 IFBB New York Pro
3rd Place 2018 IFBB Pittsburgh Pro
11th Place 2018 IFBB Governors Cup
3rd Place 2018 IFBB Fit World Pro
11th Place 2018 IFBB Arnold Classic Australia
3rd Place 2018 IFBB Hawaii Pro
15th Place 2018 Arnold Sports Festival
16th Place 2017 IFBB Mr Olympia
1st Place 2017 IFBB Vancouver Pro
6th Place 2017 IFBB Greater Gulf States
4th Place 2017 IFBB Fit World Pro
4th Place 2017 IFBB Legends
15th Place 2016 IFBB Coastal USA
Bio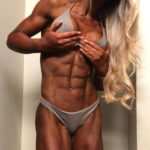 Not shown in her contest history above is the fact that Frida's first bikini competition was back in 2014.
Not unlike many of the fit babes we run across on this website, Frida was always very active and athletic.
At the time of her first contest, she was still playing competitive soccer. This seemed to hinder her results on the stage. So she made the commitment to give bikini and figure competitions 100% of her attention. She set a goal of winning her pro card within a 2-year time period.
She was able to achieve that pro card milestone in 2016, and has never looked back. I'm sure she still thinks of soccer fondly, but still spends all her time on that intense bikini competition schedule.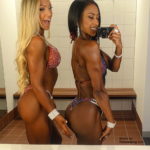 She then set a goal of qualifying for the 2017 Olympia. It took her 5 additional shows, but she was finally able to accomplish that.
Now she has set a goal of placing in the top 5 in the Olympia. I wouldn't count her out. She's obviously very goal-driven, and so far literally nothing has been able to stand in her way. It will be interesting to see how she finishes in 2018.
Interview
I have reached out to Frida asking for an interview. Hopefully I'll be able to secure something, and if so I'll post it here for all of you to read.
Stats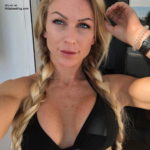 Height: 5'7"
Weight: 125-135 lbs
Age: Born 1994
Hair: blonde
Measurements: unknown
Marital statu: unknown. Given the fact that she competes constantly, I can't imagine she has time to date, much less be married!
Videos
I don't think Frida has her own youtube channel. But she is tremendously popular, and there are all kinds of videos of her out there. I have pasted a couple of my favorites below.
Misc
Frida's website is
https://www.fridapaulsenstern.com/
Her instagram, which has 123k followers at the moment is
https://www.instagram.com/fridapaulsen/?hl=en