Danielle Brandon
Danielle is a Crossfit Games athlete as well as a coach. Her Instagram is
https://www.instagram.com/daniellebrandon7/?hl=en
She currently has around 72k followers. It sounds like she attended college on a scholarship for pole vaulting. She is an incredible athlete. Maybe some of that is genetics – her parents were Olympians. She finished 20th in the 2020 Crossfit Games, and took 11th place in 2019. She is 24 years old, and stunningly gorgeous. This girl could model. And her body looks like it belongs to a greek goddess.
Alexis Raptis
Alexis is another young xfit competitor. She is 21 years old, 5'5″ tall, and weighs around 138 lbs. She lives in the Salt Lake City area. She was ranked 104th in the US this year. She has 14k followers on her instagram channel. She got into Crossfit a few years ago after suffering some injuries in gymnastics. She was also dealing with some back problems a few years ago, but hopefully she can stay healthy and competitive.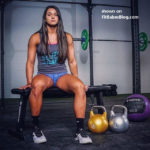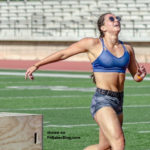 Steph Chung
Stephanie is a very popular Crossfitter who has steadily improved her ranking over the years. At 28 years old, she has gone from 130th a few years ago to 46th this year. She is 5'5″ and weighs around 150 lbs. She's built up quite a following on instagram, with 166k fans:
https://www.instagram.com/stephchung2/?hl=en
Steph's father is Taiwanese, and her parents enrolled her at an early age in gymnastics to help use up some of her excess energy. Like many girls in gymnastics, she suffered some injuries. This gal has a lot of personality, and she is driven to enjoy herself while competing.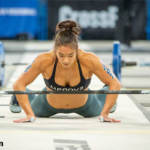 Zummer Pagan
Zummer is a tiny little stick of dynamite. She weighs around 135 lbs, and stands only 5′ tall. She is 26 years old. I couldn't find any recent competition stats, and her US/worldwide rank isn't really relevant for that reason. She is from Puerto Rico. She has around 60k fans on her instagram account
https://www.instagram.com/veranomarie1012/?hl=en
She has an addictive smile!