Catherine Holland (no relation, at least as far as I know, to Bianca Holland) has been stirring things up a bit lately doing some fresh erotic work for Venus. Catherine is an IFBB Figure Pro. She was born in 1980 in Oregon, but currently lives in California. Her contest weight is around 130 lbs, and that's at a height of 5'7″. She has both a BS and MS in Exercise and Sport Science (Oregon State University). In addition to the fitness modeling, Catherine is also a personal trainer.
Catherine has been athletic her whole life. She played volleyball all four years during high school (her height helped a lot). That's in addition to softball, track and field (pole vault), and some serious water skiing, and later medium-distance running. She didn't start weight training until later in her college career. She turned Pro in 2008.
She's been in Oxygen Magazine, Planet Muscle, Muscle and Fitness Hers, American Curves, Maximum Fitness for Men, Muscle Mag, Muscular Development, and Muscle and Fitness.
9/19/11 Update:
Catherine has been updating her website pretty regularly. I'll go through some of the September details here:
September 16, 2011 Bedtime Fun
Catherine gets up close and personal with the camera when she lays down in bed in some sexy, skimpy lingerie. She listens to a little music, rubs herself all over, then takes an nap. She must be headed for a competition because she is looking very shredded.
September 14, 2011 Hard Abs, Strong Abs
Another video of Catherine working out in some skimpy gym attire. She does some serious ab exercises, and it's clear she hasn't been messing around with her diet or her workouts.
September 11, 2011 Sandbag Training
A video of Catherine workout out in a tight, white sports bra. She gets a little sweaty, and you can basically see through her top. Great footage here of a beautiful lady.
September 8, 2011 Strength and Beauty
A photo set of Catherine shot in Dayton Beach. These were shot about 2 weeks before Catherine's first competition of the summer, so she is impressive with her hard, lean body. Some photos of her squatting down in a tiny pair of panties make me groan and moan.
September 6, 2011 Love the Rack
Catherine is using the squat rack in this video, doing bentover rows, lunges, and shrugs. She is nearly unbeatable when it comes to being busty, beautiful, and fit.
September 3, 2011 Prowler Training
A video of Catherine pushing a prowler around some landscaping. This girl is like an amazon. She's not big, but she's lean, hard, and super strong. She really exhausts herself here, then it's inside for a shower.
September 1, 2011 Good Morning Fit Cat
Catherine shoots this video herself, as she wakes up and gets out of bed. Do you wonder what she might be wearing (or not wearing) while she's sleeping? Wonder what she looks like with no makeup, as she climbs out of bed and heads for a shower? She talks us through her morning bathroom ritual, while not wearing much in the way of clothes.
9/30/11 Update:
Catherine keeps moving around a lot. For the last three years, she has moved around the United States as needed in order to further her career and her training. On her website she explains that her daily routine is very important to staying on the right track with her fitness goals. Anybody who is a professional athlete or who is trying to maintain a certain lifestyle and diet can attest to this. Surprisingly, Catherine admits to being relatively high-strung, even though most people who meet her or interact with her through her site would think she's lad back. As for as Catherine's fitness model secrets, she says she added plyometrics to her training a few months ago and it has been doing a crazy job on her glutes and hamstrings. She has adjusted her caloric intake a bit higher, but has been doing slightly more cardio to compensate. With great results obviously!
October 8, 2011 Update:
Adding some more photos of this fitness queen. Some are of Catherine posing in skimpy lingerie, some are of her completely nude in the tub.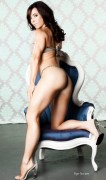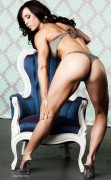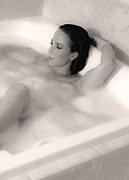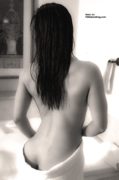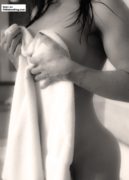 November 18, 2011
Catherine keeps pushing the limit. Tasteful and beautiful, but always edgy, she continues to appear on her website as well as LandOfVenus completely nude. A few days ago, a videos of her pulling her clothes off and flexing was posted. Then naked photos of her posing on a green leather couch.
January 8, 2012
We have added several new Catherine Holland videos. We will try to periodically add more to our collection. Although photos of Cat inspire, videos entice, so we might as well enjoy them.
January 24, 2012
Catherine has been busy adding content to her site. Let's recap her updates thus far through the month of January.
Happy New Year Lingerie Workout (parts 1 and 2)
This is a video where she works out in some skimpy lingerie. She ends up without any clothes and in bed. Way hot!
Favorite Stretches
Another video of Catherine in tight spandex demonstrating some very nice flexibility.
All Back
Video of Catherine flexing her back while topless.
Blue Nightgown (parts 1 and 2)
You guessed it, more lingerie videos from the muscualar fitness queen.
Nude Squats
If you haven't visited her website to watch her do nude squats, you should put that high on your priority list. Amazing – with great definition in her legs, and a sexy rounded rump.
2012 New Year Workouts
Compilation of workouts she did the first part of the year. Watch her doing her thing in the gym, very cool video.
Purple Leopard Lingerie (parts 1 and 2)
Catherine must own more lingerie than any other muscular babe on the face of the earth!
Update 2/18/12
Added a number of photos to our site of Catherine looking incredible.
Catherine Holland Biceps
Bikini
Bikini 2
Catherine Holland Thong
Catherine Holland abs
3/19/12
Added a photo of Catherine in pre-contest shape.
6/4/12
Catherine in a black dress
And a fun shot of her posing with a friend
6/26/12
Some more pics
9/14/12
Update on Catherine's shows in Florida, as well as the popularity of her webiste…Catherine Holland update
5/5/13
Some candid photos of Catherine.
12/11/16
I'll add a couple of links, one to the Catherine Holland Facebook account. The other is to her Instagram account. You may notice that she appears to be pregnant 🙂 Also, she's added a last name (aka Catherina Holland Gorshe), so she has presumably gotten married.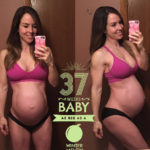 I've heard that she may decide to stop doing nude photo and video shoots, simply because she will soon be a mom, and she wants to clean things up a bit.
10/31/17
It looks like Catherine abandoned her website now that she's a mom. I have removed (I think) all our links.