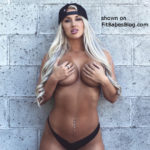 Laci Kay Somers is another fitness model who is blowing the internet up with her Instagram page. She is currently bumping along at 6.4M followers.
Laci is a registered nurse who grew up in the Sanfrancisco Bay area of California. She is a big sports fan, and finds herself cheering for the 49ers and the Giants (of course).
She is also a pretty serious chef. She loves cooking, loves eating, and loves food in general.
I've read that she makes several million dollars per year from endorsement stuff via social media. And at least at one point, she was a ring card girl for an MMA outfit. She is around 25 years old, and also works as a personal trainer.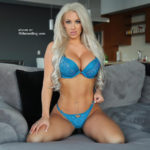 And guys, you may want to be careful: she is an avid kickboxer.
Laci sells all kinds of stuff on her website. There are posters, cell phone cases, t-shirts, and calendars. So many fitness models agonize over getting themselves (and keeping themselves) in awesome shape, and they do photo shoots where they get paid and the magazine, website, or photographer walks off with the content, but they never spend time building their own personal brand. Obviously, Laci isn't like that!
I actually don't know very many models who sell cell phone covers with their own photos on them!
Height 5'7″
Weight 119 lbs
Measurements 34C-25-34
Eyes green
Hair very blonde
Now, I took those stats from an informational page about Laci online. Looking at her photos, I can tell you that her measurements don't look right. Not to put too fine of a point on it, but I think her bust is bigger than C-cup. I'll let you decide for yourself 🙂
In the video I've embedded below, she is stomping around a gym working out in a tight sportsbra and super-tight yoga pants. She is a beautiful girl, and there's no wonder she's in such high demand as a fitness model.